women volunteers from the region in the fight of good against evil | News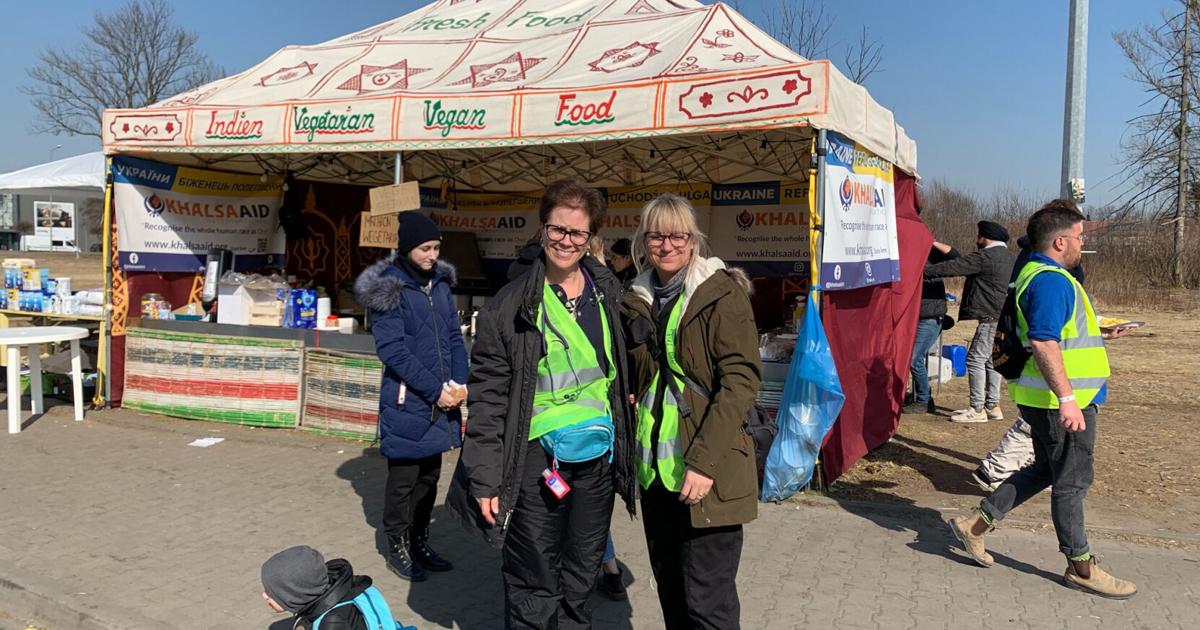 SHARON – As the Russian invasion of Ukraine continues after a month of fighting, Dede Radkowski, a native of the region, knows the hardships facing Ukrainian refugees – not because of what she sees at home. television, but because she and a close friend worked first-hand with refugees in Poland.
A Sharon resident with a nursing background, Radkowski works from home for Cigna and as a nursing supervisor at Sharon Regional Medical Center.
But when Russia launched its invasion of Ukraine in February, Radkowski knew she had to do something, both as a devout Catholic and as someone whose paternal grandparents were from Ukraine and from Poland.
"I think what's going on there is a struggle between good and evil," Radkowski said.
As she considered taking action, Chrystal Kozol — a friend Radkowski met through the Catholic organization Our Lady of Lourdes Hospitality North American Volunteers — texted her asking her to travel to Europe from ballast.
Both Kozol and Radkowski are trained as nurses and had previously traveled to other countries, including Bosnia and Herzegovina, France and Israel. So when Kozol contacted her with the same idea of ​​helping Ukrainians, the couple started looking for groups they could work with.
Jim Zern, a friend of Radkowski's in Pittsburgh, put her in touch with a group operating in Poland, although Radkowski needed translation assistance from Father Steve Repa of St. John's Ukrainian Orthodox Church in Sharon, because the representative of the group only spoke Polish and Ukrainian.
Kozol was able to bring four suitcases of supplies provided by a pharmacist friend, while Radkowski received a suitcase of medical supplies provided by Hanger Prosthetics and Orthotics in Hermitage. Dr. Ravindra Sachdeva at Hermitage organizes flights and medical supplies, Radkowski said.
"We both said that if everything fell into place, that meant God wanted us to go," Radkowski said. "And things just kept falling into place."
The friends met at JFK International Airport and eventually landed in Warsaw, Poland on March 17, before arriving in the town of Przemysl.
While in Przemysl, Radkowski and Kozol stayed with the Sisters Servants of Mary Immaculate, an order of Greek-Ukrainian Catholic nuns headed by Sister Irena Drozd, or simply "Sister Anna."
Under normal circumstances, the nuns' facility served as a rehabilitation center. and although most of the people they met did not understand English, the volunteers used smartphone apps to translate and communicate – even Sister Anne relied on an app.
However, the real work was done in a Tesco shopping center which has been converted into a "humanitarian aid centre" for Ukrainian refugees, with different sections assigned to various roles, such as medical care or treatment.
On an average day, Radkowski and Kozol would often work from 9 or 10 a.m. until 6 or 7 p.m., when another team of volunteers took over.
Despite the constant flow of refugees, Radkowski said operations at the center went smoothly and Ukrainians seemed tired but determined to continue the next leg of their journey, wherever it was, in an atmosphere she described as quiet and "dark".
For some refugees, the trip was particularly dangerous because buses or trains had to stop periodically, turn off all lights and engines, and tell passengers to be quiet for fear of being attacked by the Russians. For some refugees, a five-hour train ride to Poland can take up to a day or more.
"You might hear a baby crying or a dog barking if someone brought their pet with them, but otherwise nobody fussed," Radkowski said.
Because of their nursing backgrounds, Radkowski and Kozol worked in a medical unit. Although they expected to deal mostly with war-related injuries, such as shrapnel wounds, the duo found themselves helping many refugees deal with health issues. .
"Somebody can have diabetes or heart disease, and now because of the war and having to leave their house, they can't get their medicine," Radkowski said.
During their time at the humanitarian aid center, Radkowski tried to connect with every American she could — usually tipped off when she heard someone speaking English.
This allowed him and Kozol to meet other volunteers, including a missionary doctor, Dr. Theresa Wolff, originally from Johnstown who now lives in Mexico; and Pittsburgh native Allen Sherwood, who worked with Ukrainian Catholic priest Reverend Jason Charron to bring Ukrainian orphans to the United States.
Radkowski and Kozol worked directly with a global disaster relief team in Boston.
Other volunteers helped in more unusual ways. A Kentucky native who dressed up as a chicken and stood at the border crossing to cheer up Ukrainian children. Another group of Mormon volunteers bought drinks and suitcases for the refugees, as many Ukrainians only had various bags to carry their belongings.
Radkowski said he saw volunteers and supplies arriving in Ukraine from Finland, Germany, Norway, Israel, Spain and India, to name a few – a demonstration" moving" of international support. Many Poles, including a local high school student who volunteered on his days off, gave their own support.
"I think we had an impact," Radkowski said of the volunteer efforts.
Although Radkowski and Kozol spent the majority of their time in Poland, they made a brief foray into Ukraine on March 22. The couple, accompanied by some Mormon volunteers from the United States, traveled about a mile to Ukraine to help Wolff set up a makeshift hospital in a former school, then returned to Poland after about 40 minutes.
"She had been to other places like Africa, so she really wanted to get where she was needed," Radkowski said of the doctor. "She wasn't afraid."
The couple returned to the United States on March 23, and Radkowski still occasionally receives updates from other Americans she met in Poland. She always follows the Russian invasion in the news and tries to help where she can, including prayers for the Ukrainian people.
"Pope Francis recently asked to consecrate Russia to Ukraine, so it was very important," she said.