Traditional Menstrual Practices Among Nepali Women Living in Japan | BMC Women's Health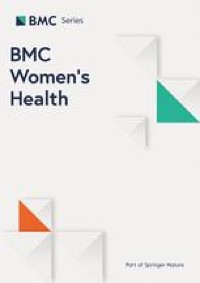 In our study, 69.2% of the women had a high level of education (high school or higher); this percentage was higher than the net secondary school enrollment rate (grades 9-12) in Nepal (38.6%) [14]. In addition, 67.3% belonged to higher castes (Brahmin and Chettri), which was higher than the percentage in Nepal (28.8%). [15]. Therefore, the Nepalese women who participated in this study had a higher level of education and belonged to higher castes than the general population living in Nepal.
The most frequently practiced traditional menstrual practices while living in Nepal were restrictions on "going to the temple" and "attending religious events" (79.6% and 69.2% in the high-frequency group, respectively) in the category "Restriction of religious behavior" (Table 2). These percentages in the low frequency group after moving to Japan were 18.3% for "Going to the temple" and 19.2% for "Attending religious events"; these percentages were lower than the other restrictions (Table 2). This suggests that Nepali women continued to follow these two restrictive practices even after moving to Japan, although the frequencies decreased. Mukherjee et al. recently reported that most Nepalese women restrict their religious behaviors during menstruation, and more than half of Nepalese women feel they should not go to places of worship or attend religious events during menstruation [4]. One participant in our study said she rarely visited a temple during her period in Nepal, but did visit Japan, even though she did not think it was a good practice (3–5 in the table 4). As there are few Hindu temples in Japan, Nepalese people living in Japan visit Japanese temples and shrines based on the same polytheism as Hinduism for their spiritual well-being. [16]. Nepalese women therefore visited temples during their menstruation in Japan against traditional practices, but they generally felt conflicted.
In this study, 14 out of 17 traditional menstrual practices were less frequently followed in Japan compared to those in Nepal. Based on data from Nepalese immigrants to Japan [17], the most frequent reasons for living in Japan were studying abroad, staying with family and technical training. Most Nepali women living in Japan are between 20 and 35 years old. In this study, the average age of participants was 29.7 years and many participants came from single or nuclear families, rather than the traditional three-generation households common in Nepal. As shown in Table 2, many women in the high-frequency group in Nepal belonged to the low-frequency group after moving to Japan in the categories of "restriction of religious behavior", "restriction of contact with others" and "restriction of from the kitchen ". and eat'. These three restrictions included practices related to household chores, attending events, and communicating with family and loved ones, suggesting that the reduction in traditional practices is caused by changes in family structure after moving to Japan. according to previous studies. Crawford, Menger, and Kaufman reported that many Nepalese women were pressured to continue traditional menstrual practices by family members, including their mothers-in-law, and concluded that Nepalese women accepted alternative and more modern approaches to menstruation. menstruation if the prejudice against menstruation was reduced by their families and Nepalese society [3]. Thapa, Bhattarai and Aro said it might be difficult for Nepalese girls and young women to persuade their mothers, mothers-in-law and other family members to abandon traditional practices related to menstruation, even if they understand how to improve their health. and hygiene during menstruation [18]. Mukherjee et al. reported that living with a conservative, extended family was negatively correlated with reduced traditional practices in Nepal [4]. Some comments regarding attitude 1, as shown in Table 4, supported the idea that traditional practices declined because women were not compelled to implement the practices by their communities, including members of family. We considered that Nepalese women might reduce traditional menstrual practices if they do not live with conservative and extended families, including their mothers and mothers-in-law.
Recent studies have focused on the relationships between traditional menstrual practices, caste and level of education, and it has been reported that Nepali women from higher castes practice traditional practices in Nepal more frequently than those from lower castes. [4, 19]. However, the relationship between traditional practices in Nepal and level of education remains controversial. In this study, we examined the relationships between changes in behavior towards traditional practices and caste and level of education, but found no significant association except between level of education and restriction of contact with male family members. These results indicated that attitudes surrounding traditional practices were cultivated through education at home and in primary school, regardless of caste. We believe that early intervention is necessary to reduce traditional menstrual practices, regardless of caste or education level.
It is important to note that Nepalese women have ambivalent feelings about traditional menstrual practices. As shown in attitude 2 in table 4, Nepalese women were sometimes unable to perform traditional practices because their environment was different from that of Nepal, even though they preferred to perform them. In previous studies, Nepalese women living in Nepal said they accepted and practiced traditional menstrual practices out of respect for the elderly and tradition. [3]and cooking restrictions during menstruation provided rest [4]. Thus, it has been inferred that some women experience spiritual and physical peace as a positive aspect of menstrual practices. Therefore, some Nepalese women may have positive attitudes about traditional menstrual practices. Future interventions aimed at reducing traditional menstrual practices should not interfere with the well-being of Nepalese women taking into account their positive attitudes.
We thought about ways to reduce these traditional practices in Nepal. Several studies have been conducted on the relationship between traditional practices and menstrual hygiene management (MHM) education in primary schools [10, 11, 20, 21]. MHM has been defined as "women and adolescent girls using clean menstrual management equipment to absorb or collect menstrual blood, which can be changed in privacy as often as needed for the duration of a menstrual period, using soap and water to wash the body as needed, and have access to safe and convenient facilities to dispose of used menstrual management equipment" [22]. In low- and middle-income countries around Nepal, MHM education before the first menstruation or during adolescence reduced traditional menstrual practices [23,24,25]. In Bangladesh, which has traditional menstrual practices similar to those in Nepal, the usefulness of school-based DRM education was examined in a randomized intervention trial, finding that girls and their parents reduced traditional practices, such as than not touching others and not going to school during menstruation. [26]. In our study, most Nepalese women reduced their traditional menstrual practices after moving to Japan due to less pressure from family members, especially their mothers or mothers-in-law. Nepali mothers usually teach their daughters how to manage their periods and push them to implement traditional practices [3, 4]. Moreover, no association was found between traditional menstrual practices and level of education, suggesting that attitudes towards traditional menstrual practices could be acquired at home or in primary or secondary school.
This study proved that traditional menstrual practices related to housework can be reduced by changes in living conditions, such as the nuclear family associated with migration. However, traditional religious practices have not diminished; in fact, Nepali women were uncomfortable with the decrease in religious practices during menstruation. The character of menstrual attitudes of Nepalese women is not uniform, and it was deemed important to focus only on traditional menstrual practices that are harmful to women's health and to encourage their improvement by health workers in the settings. community and school.
Implications for the clinical practice of health care nurses
We offer implications for the clinical practice of health care nurses to reduce traditional menstrual practices among Nepalese women (Table 5) [27].
Limits
This study had several limitations. First, the participants in this study were Nepalese women of high educational attainment and castes, and therefore our findings cannot be generalized to all Nepalese women. Second, spouses were not studied in this study. It is highly probable that the characteristics of the spouses influence the change in behavior of Nepalese women. Third, snowball sampling may have resulted in response bias; however, it was effective in sampling a small number of participants staying abroad. Fourth, this study was a retrospective investigation of the frequency of implementation of traditional menstruation practices in Nepal. The frequencies of menstrual practices in Nepal might be subject to recall bias. For future studies, it would be useful to investigate the traditional menstruation practices of Nepalese women living in countries other than Japan and to include women with lower levels of education and castes.