Students collect seeds for a Ukrainian missionary | Sioux Center News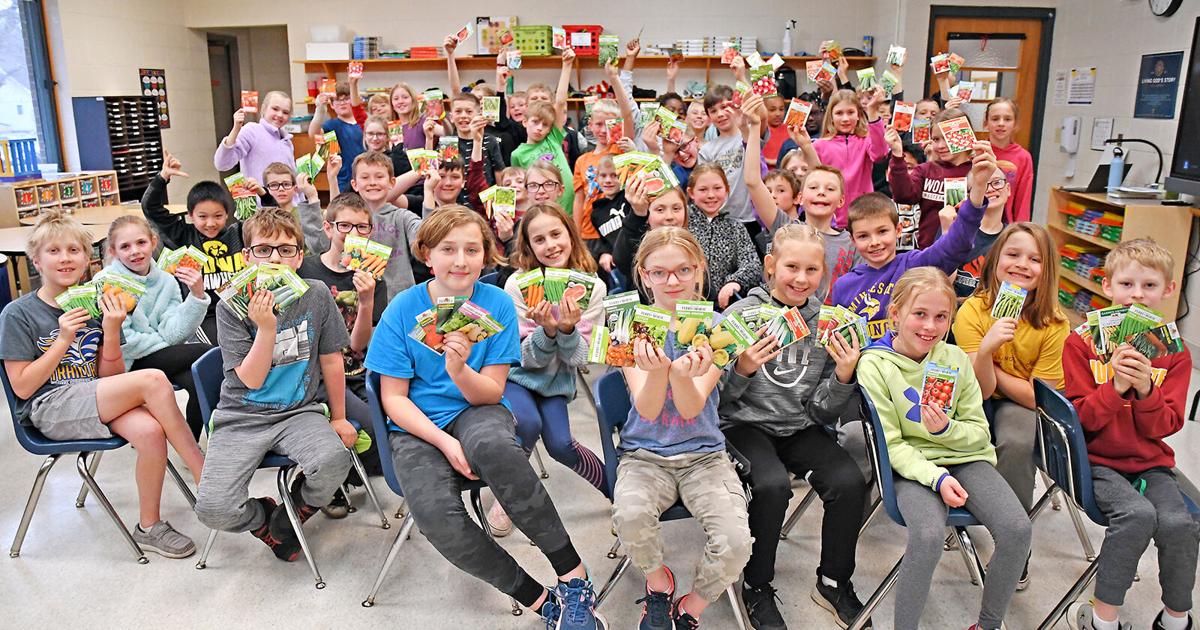 SIOUX CENTER—Fourth-grade students at Sioux Center Christian School put a plan in place last week to help a Ukrainian missionary feed the hungry and sow the gospel.
From carrots, pumpkins, tomatoes, potatoes, radishes, green beans, squash and more, students collected 413 seed packets to send to Sioux County native Maranda Heytsi to feed the refugees passing through his community.
Heytsi has been a missionary in Ukraine since 1999. She and her husband Vasya and their six children live in Tyachiv, located on the western border with Romania.
Their work revolves around New Life Church in Ukraine and its outreach ministries of Bible Study, Youth Group, Children's Bible Club, Feeding the Hungry, Youth Camp, summer evangelistic camps, a Creative Center ministry for affected youth in the camps, and worship services. They also have a passion for helping homeless and drug addicted people, as many Ukrainians suffer from alcoholism. For this reason, they also provide housing/shelter to those in need.
Although Heytsi is an American citizen, her husband and four adopted children cannot leave the country, so they stay together, helping those in need.
Russia launched a full-scale invasion of Ukraine on February 24, marking a major escalation in the ongoing Russian-Ukrainian war.
Heytsi's sister, Martha Hulshof from rural Ireton, recently spoke with the fourth grade class about her sister's work and needs, as her youngest son, Jesse, is in that class.
Collectively, the students shared that the goal of Heytsi Church was to continue spreading the word of God by helping refugees, many of whom are women and children.
They and their church members have 17 houses in which they lodge people and they feed about 150 people a day.
One of Heytsi's requests was for seeds, as Ukraine is known for its fertile soil. Having a garden could help the church continue to feed people as supplies run low in stores and would allow the church to share seeds with others, especially refugees who have left a lot behind. them.
Seeds are light to ship and if sent now could arrive in time for spring planting.
Students learned a variety of lessons through the project:
"Doing little things can help others," said Josiah Vander Werff.
"It's good to help others," Logan Hannigan said.
"Just because you're younger doesn't mean you can't have an impact," Poppy Van Beek said.
The students reflected on the Russian-Ukrainian war through the lens of their deep hope this year, focusing on trusting in God, seeing Him in everything, and learning to follow God where He leads.
"Jesse's mother said that Maranda had seen a vision from the Holy Spirit telling him that war had to take place. She asked churches for donations before the war started," said fourth-grade teacher Abby Finley.
Local financial support enabled the couple to buy a generator in case of a power outage. They also bought canned meat.
"Maranda saw God in the work she does and her main goal is to continue to spread the word of God, that more people can come to Jesus through it all," Finley said.
"It's starting," Van Beek said. "They used to have one service a day, but since there are so many people coming, now they do two services a day."
And the message that Heytsi asked his sister to convey is: "Although we desire security, our main desire is the will of God, his kingdom, the salvation of souls and the coming of our husband for his wife. Let's all say together: 'Come Lord Jesus, Come!' »