St. Joseph the Worker Parish Religious Education Teacher Retires After Sharing His Faith for 36 Years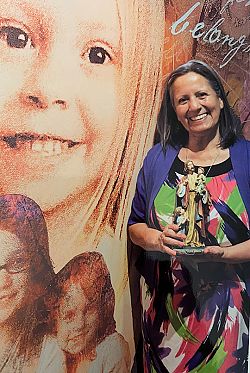 Friday, June 24, 2022
Courtesy picture
+ Expand
Gail Lopez, who is retiring as a religious education teacher at St. Joseph the Worker Parish, received a statue of Jesus at the end of the senior year in religious education class. She is pictured next to the mural in St. Joseph the Worker Catholic Church which features her granddaughter.
WESTERN JORDAN — After 36 years of religious education to fifth-grade students at St. Joseph the Worker Parish, Gail Lopez is retiring.
Lopez's path to her calling began when she was young. She grew up in the Church, but fell out as an adult. She returned to the Church when her three children were young so they could learn more about their faith, she said.
After several years of attending Mass, she decided to help teach religious education in 1986. She began instructing fifth graders and estimates that since then she has taught nearly 1,000 children. .
Each year, Lopez encouraged his students to learn not only the basic prayers, but also at least one additional prayer. She also gave homework every week and helped those who had trouble returning materials even though it was late.
"It's a lot of work, but I really want them to have a deep relationship with God," she said.
The secret to winning over so-called "difficult" kids is prayer, she said. She often prayed for these students asking God to help her reach them, and that help always came.
Lopez retired from a business career four years ago. She then briefly considered dropping out of her parochial class, but "I couldn't just leave the kids without having a teacher for them," she said.
Instead, she found Patricia Fontaine, who trained under Lopez for the job and will return to classes this fall.
Lopez and her husband, Louis, are looking to move to a warmer climate because they find Utah's winters harsh. When she leaves, Lopez will take with her many warm memories and leave a legacy of service and faith among the many people she has touched over the years.
Many of his former students have become lectors or involved in other ways of serving in their parishes. Recently, she met a student she had taught over 20 years ago who remembered her. He had remained faithful and was now raising his children in the Church. "It was such a great experience," she said.
Wherever she goes, Lopez hopes to continue her service in the Church.
"It helps me grow and know my faith better," she said. "It always helped me not to take the Church for granted, knowing the importance…it brought me everything from the heart."
Father Javier Virgen, pastor of Saint Joseph Ouvrier, expressed his appreciation for Lopez.
"She was a wonderful, dedicated and committed parishioner for many years in this parish," he said. "She is very devoted to the Eucharist, to daily Communion and very involved in the WOW (the parish women's group). She is a good example of faith, perseverance, love for the children she taught for many years. She is a very dedicated woman who, by her example, motivates people to embrace Christ and the call to service and love.
Lopez is "probably the sweetest thing you've ever met in your life," said Melissa Castellano, director of religious education for the parish. "One of the first things I noticed was his genuine caring; she really cares about the kids. She also cares about their souls. When they leave her class each week, she gives them a blessing and prays with them.
Mary James, another parishioner, said Lopez taught her grandchildren religious education many years ago. When she told him about them recently, she was surprised that Lopez remembered them, was very interested in what they were doing now, and even shared a story about them.
"Gail has not only been a teacher in the classroom for the past 36 years, she unknowingly teaches, through her actions in our community of St. Joseph, teaches others," James said. After working with Lopez, "you leave with an uplifting feeling because of something she said or the way she treated another person – you leave with a treat of a way to grow in your own Christianity ."