Sara Ann 'Sally' Peabody Wagner, 91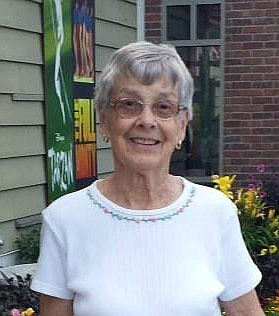 Sara Ann "Sally" Peabody Wagner, 91, died March 30, 2022 at her home in Bigfork.
Born in 1930 in Washington, DC, the youngest child of Dr. and Mrs. J. Winthrop Peabody, Sally graduated from Blessed Sacrament Grammar School in Chevy Chase, Maryland, and Georgetown Visitation Preparatory School in Washington, DC.
In 1949, after completing a semester at Rosemont College in Pennsylvania, Sally accepted a very romantic marriage proposal from Second Lieutenant William Francis Wagner. After a Catholic marriage by proxy, Sally joined Bill at the U.S. Naval Base in Yokosuka, Japan, where they celebrated their nuptials. She was a devoted wife and proud mother of seven children, Christy, Gabriel, Susan, Katie, Tom, Joe and John. She returned to school later in life to earn her undergraduate degree (magna cum laude), two graduate degrees, and a teaching degree at California State University Northridge. For the next 20 years, she taught special education at Van Nuys High School in Los Angeles.
In April 1994, Sally and Bill retired to Bigfork where they indulged in their lifelong passion for natural beauty by hiking Glacier National Park's many trails, cross-country skiing and evening strolls on along the River Walk. At home in Bigfork, Sally and Bill welcomed their beloved grandchildren with fun times: boating Flathead Lake, tubing the Flathead and Swan Rivers, and hiking Avalanche Lake and Logan Pass in Glacier National Park. They were active members of St. John Paul II Catholic Church where Sally taught religious education classes and participated in the parish prayer line. When Bill passed away in 1996, Sally began volunteering at the Bigfork Art & Cultural Center, the Bigfork Center for Performing Arts, and the local retirement home. A passionate genealogist, she researched and compiled a long family history as a gift for her children. As a dedicated member of the Bigfork PEO chapter, she has lectured on learning history through genealogy.
Sally was predeceased by her husband, Bill, her youngest son, John, her sister, Naomi Peabody, and her brother, Dr. J. Winthrop Peabody Jr.
She is survived by six children, 11 grandchildren and 11 great-grandchildren, as well as many close nieces and nephews. Beloved by her family, we miss her very much.
Sally will be buried next to her husband at the Benedictine Abbey of St. Andrew in Valyermo, California.