Preparing a farm for winter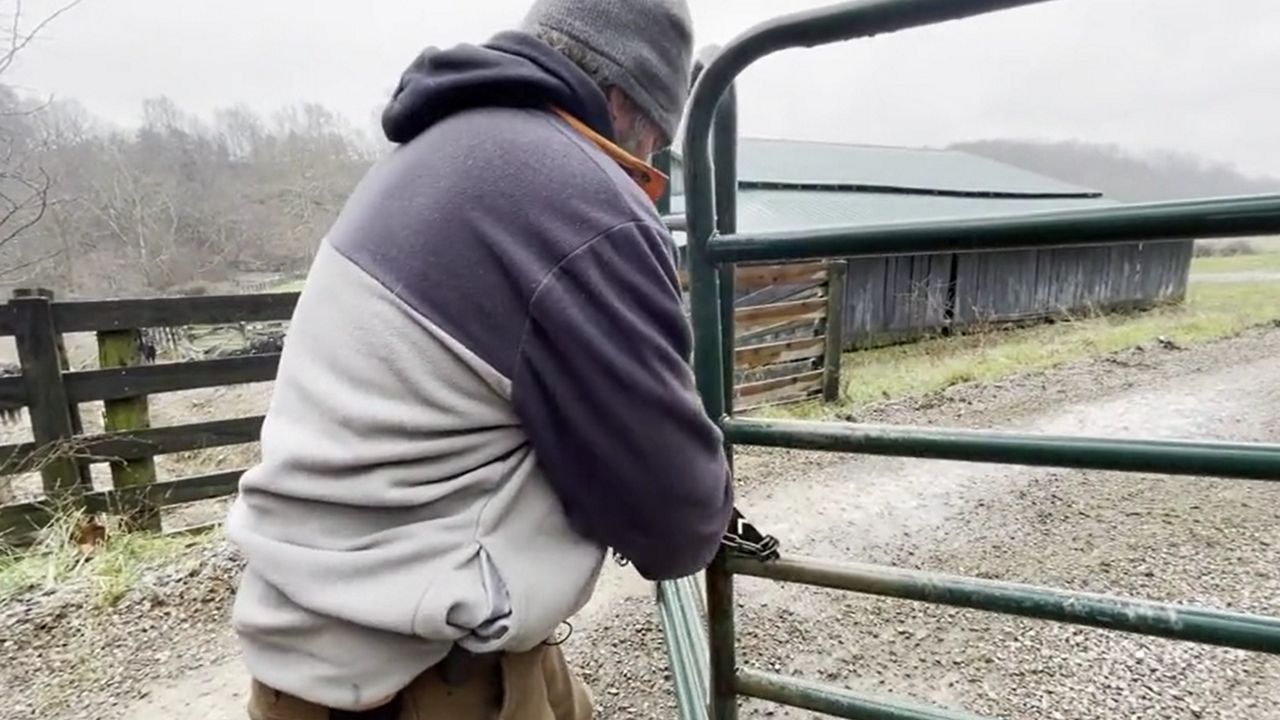 LEXINGTON, Ky. — As one farm manager explains, protecting crops and preparing livestock for winter storms is no small task.
---
What do you want to know
Cover crops planted well before winter storms
Cows moved to greener pastures
Some tractors used as generators
Hay used to keep livestock warm and fed
---
Cody Rakes, 28, became director of agricultural and land development at the 800-acre Loretto Motherhouse farm in Marion County in October 2015. Rakes has a degree in agricultural education and started working at the motherhouse shortly after graduating from the University of Kentucky. .
The farm has nearly 50 head of cattle, but also grows corn, sweet corn, pumpkins and soybeans which are sold in local markets.
"To prepare for winter conditions on the crop side, we have already planted cover crops," Rakes said. "Dealing with the livestock side is a bit more difficult."
A few days before the onset of winter, Rakes moved the cows from the farm to a new pasture to get them to a place where there is enough grass to graze.
"Once we have some ice on the ground, we move on to rolling hay in the pasture, mostly so the claves can lay down on the cold, wet ground," Rakes said. "But then, early in the morning, we'll go out and probably roll out some more hay because there's probably going to be some ice buildup overnight."
Rakes said the "name of the game" is to monitor crops and livestock and give the latter access to certain windbreaks.
"From a conservation perspective, we've fenced off all of our forests, so cattle don't have access to forested areas," Rakes said. "But when you run into those kinds of weather scenarios, it's nice to have a little wooded area where they can go with some cedars and a fence."
In the middle of the 800-acre property is an 85-bed state-licensed retirement home primarily for retired sisters. There is also the old convent, which was a dormitory, but now serves as a retirement home for the sisters. There are also a few retreat centers on campus.
"On the farm, we kind of work around all of that," Rakes said. "We raise grass-fed beef cattle that we sell directly to the public and we also supply beef for cooking. So when they cook a meal here, they feed about 120 people. They can go through quite a lot of beef in a year.
Rakes manages the day-to-day operations of the farm while balancing budgets and remaining committed to numerous educational programs. He serves on several local and state boards, including the Marion County Water District and the Kentucky Forage and Grasslands Council.
The farm is owned by the Sisters of Lorette, a convent of Catholic nuns who have been on the property since the early 1800s.
"Over its history, the farm has been a lot of different things," Rakes said. "It started as a farm to grow the food that was on the table here in their own kitchen to support all the people that were here on this campus."