Classical and Christian Hybrid Education Offered at Paideia Classical School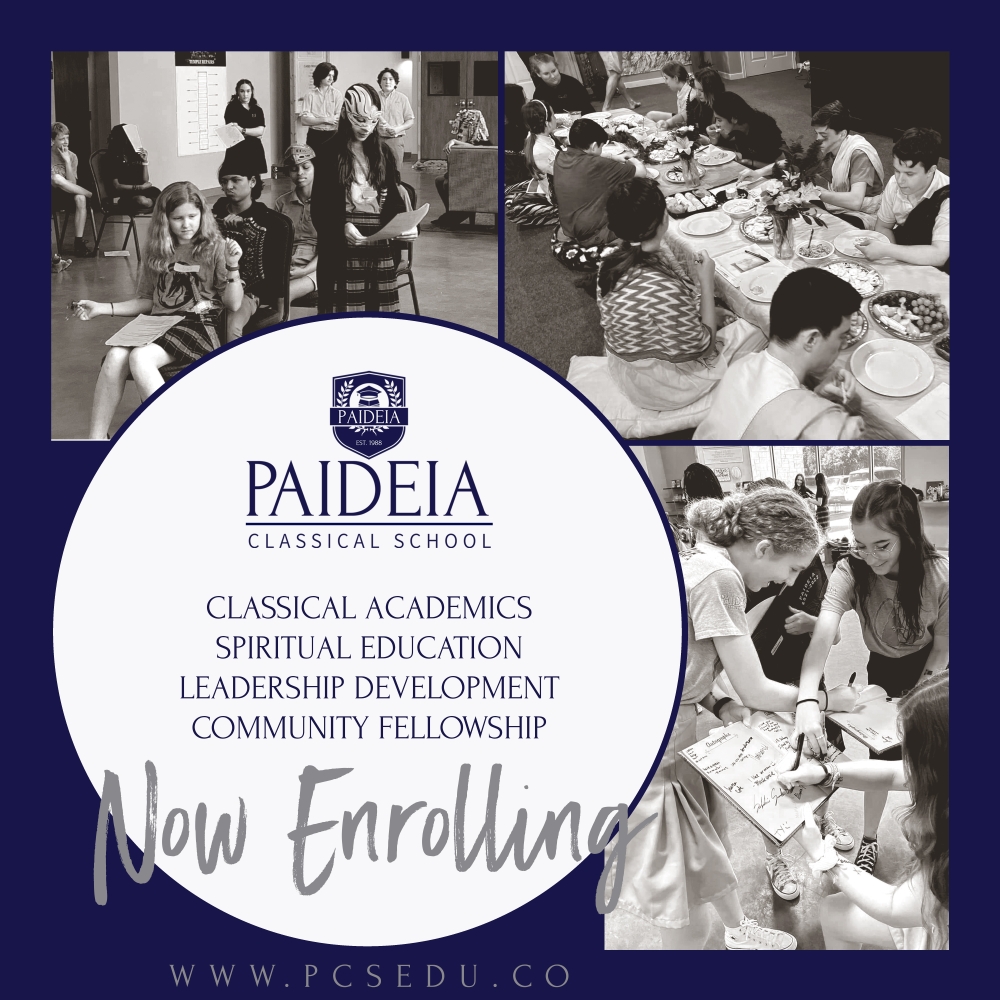 Over the past 34 years, more than 3,500 students have attended Paideia Classical School, founded by Dr. Johnnie Seago.
"We started renting space out of a church and it became a common thing. We started making schedules and one thing led to another, and here we are 34 years later," Dr. Seago said. "Four campuses and over 3,500 graduates who, whenever they want to go to college, are accepted with open arms and full scholarships."
Paideia Classical School is unique among private schools as Logic, Rhetoric, Philosophy, Apologetics, Theology, Latin, Green, Grammar, Composition, and Science are part of the curriculum.
"It's typically Christian. Not just the fact that we have a chapel every week, the children are required to memorize the scriptures. They are required to read long Bible passages to learn and discuss the Bible in their history class.
Paideia Classical School students are expected to behave like Christians, Dr. Seago said.
"We are a Disciple Maker school. It is unique to us. The classical part ties into that," Dr. Seago said. "The classic model comes from the monastery when monks taught young disciples to read Socrates and Aristotle. They trained them to become monks, pastors and priests.
Dr. Seago decided to call the school Paideia because they educate the whole child.
"We are interested in their art, their sports, their social life, their friends and how they treat their siblings," she said. "We are interested in their character and their growing leaders, the future citizens of the world. Growing someone who can change their culture.
Another aspect that differentiates Paideia Classical School is the hybrid teaching model.
"We don't take [students] five days a week," Dr. Seago said. "I want to join the parents, collaborate with them. I want to help parents be better parents and teach them things like how to overcome conflict with their children and do their job to the best of their abilities.
Each campus meets for two days on campus, with an optional third day that includes the opportunity to participate in a peer study group. Dr Seago said educating a student at school is a collaborative effort between staff and parents.
"I want to do the work with them a few days a week and then I'll team them up to go home and do it a few more days a week," Dr. Seago said. "I want mum and dad to take on some of the burden of raising their kids. This is the hybrid model.
">
The first step for parents interested in learning more about the school is to complete the application form on the website, after which they will be invited to visit the campus. If there is an opening for the child, they can be enrolled at any time during the school year. If no space is available, students can remain on a waiting list or inquire about openings at another location.
"Nothing is keeping your child here. We have a lot of kids graduating at 16 because they are able to progress and excel," Dr Seago said. "I think that's really what parents are looking for – not holding their kids back."
The Seagos' dream for Paideia Classical School is to have approximately 20 new campuses over the next decade.
Currently, there are four campuses for Paideia Classical School: Conroe, Willis, Georgetown and Spring which are all open and accepting students for registration. To learn more about Paideia Classical Schoolvisit their website.
The story above was produced by the Community Impact storytelling team with information provided solely by the local business as part of their purchase of "sponsored content" through our advertising team. Our promise of integrity to our readers is to clearly identify all CI Storytelling posts so that they are separated from the content decided, researched and written by our journalism department.