church fundraiser helps youth camping programs | Local News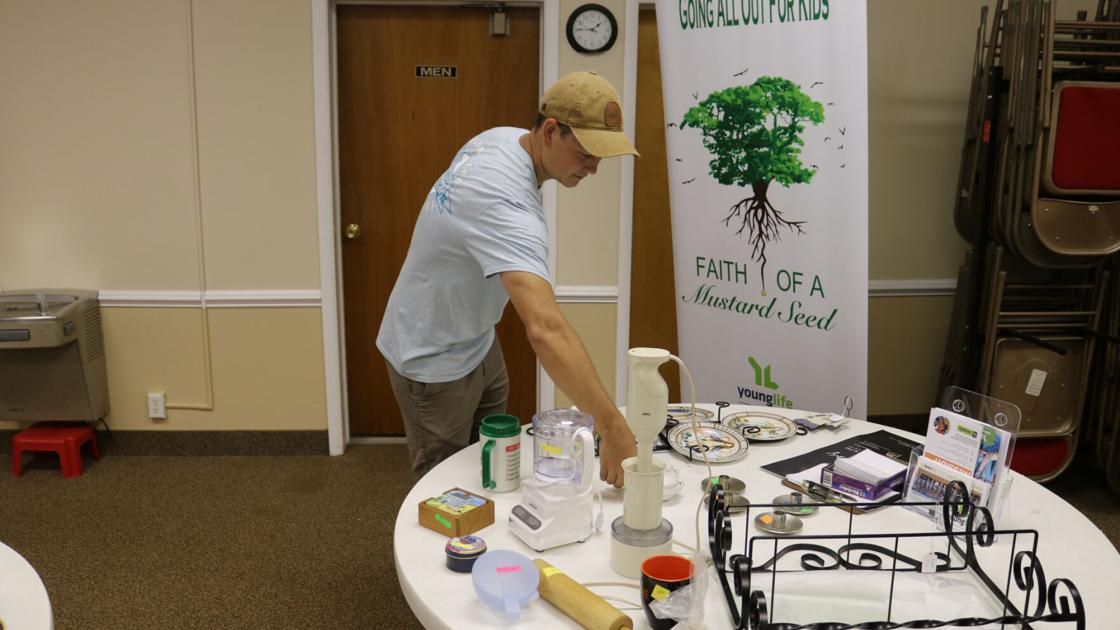 [ad_1]
GENESEO – At Christ Community Church, 26 Center Street, the recent activity was not a church service, but a fundraiser to help high school kids attend a summer camp.
"We help support the kids going to camp, and then we also help raise money for next year for us to go to camp," said Kyle Morley, mission staff.
The two-day garage sale on July 16-17 raised funds for Young Life, a Christian ministry that reaches middle school, high school and college students in the United States and in more than 100 countries around the world.
"We go to high schools to mentor them and hopefully introduce them to Christ," Morley said.
The group just took a dozen kids camping in the Adirondacks and is raising money for next summer's camping trip, as well as a mini camping experience that will take place the weekend of November 12-14. .
The cost of the summer camping trip, Morley said, is about $ 550 per student. If there is more than one student attending the camp per family, it can be a heavy toll on the parents. That's why he said fundraisers like the garage sale are important. The money raised is then used to help pay the student who cannot afford to attend camp. Morley's goal is to raise $ 5,000 for summer camp programs.
"For some of the kids, they could afford it and some couldn't," Morley said. "If you have two kids going to high school and you want to send them to camp, that's a lot of money. We help send them.
For those who can go, he said it was an experience they won't soon forget.
"The summer camps are awesome, they do parasailing, weight training, sailing and all the outdoor activities," Morley said.
Also at the camp, he said, they are working on developing life skills with the students.
"It's just about helping kids throughout life, I mean not only are you helping them get through emotional times, but you are helping them develop life skills," he said. declared.
"These are not Boy Scouts in the sense that we teach them to try to do survival type stuff, but life skills. We are building their confidence and spirituality, "said Morley.
It's a week not only filled with fun activities, but also cell phone free.
"It's a low key environment and their phones are taken for the week, so it's a full week of fun and relationship building with these teens," Morley said.
Not only will they help build a relationship with themselves, but the camp leaders said they are also learning to build a relationship with the Lord.
"I think this is the most important thing because it helps secure their eternal life in the future, but also now helps them gain the wisdom to live life," Morley said.
"Making bad choices can lead to a lot of heartache and pain, but having Christ in your life helps you gain the wisdom you need to make the right choices," Morley said.
Making those good choices is something Morley said wasn't always that easy for him.
"I struggled with drug addiction in high school. I went to Livonia and in 2013 I graduated. In 2014, I was addicted to heroin, "Morley said.
He said he had finally hit rock bottom. "I've been to the bottom, where I steal from parents and sell everything I own just so I can endure a day-to-day addiction," Morley said.
What helped him break this addition was a program called "Teen Challenge," a network of Christian faith groups dedicated to providing rehabilitation services to people with drug addiction.
"I met Christ and it saved my life," Morley said.
Now he hopes his experiences will help other children follow the same path. "I have been on this path to learn what I want to do with my life and more than anything, if I could stop the kids from following the same path as me, it's a useful life for me," said Morley .
Young people have fun at summer camp while discovering a useful life, he said.
"Young Life," said Morley, "calls it the best week of their lives."
[ad_2]