Cheryl Lynn Hagman – Hamilton County Journalist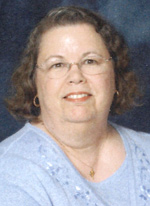 January 7, 1969 – September 28, 2021
Cheryl Lynn Hagman, 70, Fishers, passed away on Tuesday September 28, 2021. She was born in Des Moines, Iowa on January 7, 1969, daughter of Gerald (Jerry) and Carol Hagman.
Cheryl graduated from Urbandale High School in 1969 and in 1973 graduated with a Bachelor of Education with a Minor in Spanish from the University of Northern Iowa (UNI). After graduating from college, she moved to Indianapolis where she held a teaching position at Heritage Christian School. She taught high school Spanish for two years before leaving this profession. Over the following years, Cheryl worked at Bryant Heating and Cooling and other similar companies. Her most recent job was with Data Recognition Corporation (DRC) where she scored student essays submitted for national assessments such as ACT and SAT.
While dating UNI, Cheryl accepted Christ as her Lord and Savior. Her many years of Christian service began on the UNI campus when she became an active member of Campus Crusade for Christ. This service continued when she moved to Indiana. She became a member of Colonial Hills Baptist Church where she loved and served God for 48 years. She loved to serve God and was very faithful to his service. She was fortunate enough to teach the sixth grade Sunday School class at Colonial Hills Baptist Church for 42 years. She found great pleasure in nurturing these young women, in helping them grow in their faith in God. She also had fun with them. I'm sure every girl has anticipated Cheryl's "Cookies, Tea, and Games" party invitation to her house.
Anyone who knew Cheryl knew she loved to sing. She was a loyal member of the church choir with her beautiful viola voice. It was always a little bittersweet when she traveled and missed the choir on Sunday mornings. In the last year of the Covid pandemic, she was singing while participating in online worship. She was a huge fan of Ron Hamilton, aka Patch the Pirate, and all of his music and recordings. She often prayed for him as his health declined.
Cheryl's service at her church went beyond the sixth-grade girls and the choir. She also worked in the church library, and after retiring from Sunday School teaching, she began attending the Bereans, a class for Saints aged 72 and over.
Cheryl was also passionate about the Museum of Creation and The Meeting of the Ark, visiting both on several occasions. She was so excited when her grandnieces and nephews visited both museums last June and then spent time with her at her home. Dogs were another great passion for Cheryl. From a young age she has always had a dog. She especially liked Susie Q, Samson and the current dog, Roxie.
Because her UNI roommate Becky shared what a true relationship with Christ was almost 50 years ago, Cheryl has learned that she needs to pass this simple truth on to others. As a result, she took every opportunity to talk about God's saving grace with everyone she knew, especially with her mother, father, and brothers. It was his most precious privilege to lead his brother, Tom, to Christ. She was particularly close to him because of this bond. The way Cheryl lived her life made it easy to love her. Although we are sad at our loss, her family and friends are delighted to know that she is in the splendor of a healed body as she walks hand in hand with Jesus singing "RISE AND SHINE AND GIVE GOD" THE GLORY, GLORY!
In addition to her parents, Cheryl was predeceased by her brother, William James Hagman; paternal grandparents, Ed and Agnus Hagman; maternal grandparents, Michael (Ed) and Mildred Jacobe.
Survivors include her brother, Tom (Nelva) Hagman; niece, Sarah (Jason) Richards; great-nieces, Adelyn and Everly Richards; grandnephews, Colwyn and Rafe Richards; very dear and close friend and roommate of 45 years, Linda King; uncle, Jim (Linda); aunt, Beth Roush; 11 cousins ​​and their families; and his beloved dog Roxie.
Family and friends will gather at 3 p.m. on Sunday, October 3, 2021 at Colonial Hills Baptist Church, 8140 Union Chapel Road, Indianapolis, where a Celebration of Life service will begin at 4 p.m.
Memorial contributions can be made to the Colonial Hills Baptist Church-Choir Fund.
The family would like to thank everyone for their prayers and loving support.
An engagement service will be held at a later date at Highland Park Memory Gardens Cemetery, Des Moines, Iowa.
Bussell Family Funerals has the privilege of helping the family with the arrangements.
Condolences: bussellfamilyfunerals.com