As a football coach at Berean, Luke Schartner is always learning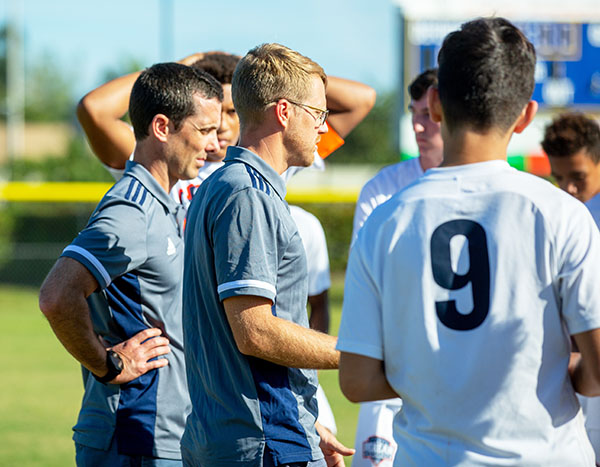 For the past 16 years, Berean Christian School's boys' varsity football program has been under the direction of Luke Schartner, who is also the school's dean of varsity athletic coaches.
For Schartner, who teaches physical education, his coaching roots go back to his childhood.
"I grew up and played in Illinois," recalls Schartner. "My high school career was at Libertyville High School, and I played as a midfielder."
After high school, he moved to West Palm Beach to attend Palm Beach Atlantic University and played college football. "I had a season as a PBA Sailfish," Schartner said.
His desire to be a football coach dates back to his father.
"I grew up watching my dad coach," Schartner said. "It was something I was always interested in. It's a big part of my life now."
His reasons for becoming a football coach were driven by the importance of providing a positive and supportive atmosphere for his players.
"A lot of people coach because they had positive coaches and wanted to do the same for others," Schartner said. "For me, it was quite the opposite. I had negative experiences with coaches and I really wanted to be different.
While some coaches are seen as the ultimate source of information for their players, Schartner believes he continues to learn football every time he steps onto the pitch.
"I feel like this journey has always been about learning both for me as a coach and also for my players," Schartner said. "Even after 16 seasons I have a lot to learn. I try to focus on the players and building them as men and not so much on building a program. I also want to instill ownership to the boys. So they see it as their team and their performances.
While every football season at Berean has been filled with memorable moments, some of his recent teams have produced some deep memories.
"Our team that qualified for the regional final in 2018 was talented, but also played very well as a unit," Schartner said. "They also knew how to make things really fun, thanks to Mark Sadek. And the 2020 post-season race was a fun memory. We had three playoff games in one week. All three games went to overtime, we had two penalty shootouts and we beat a very high quality undefeated Yeshiva team to win the district championship.
Berean athletic director Michelle Metzler is thrilled to have Schartner lead the varsity men's soccer program.
"I witnessed his strong coaching skills and experience in games and practices," Metzler said. "He intentionally seizes opportunities to create meaningful relationships with his athletes. The level of trust it establishes extends to successful, long-term character development. His unwavering commitment to progress is remarkable, despite all the setbacks. I am, personally, constantly encouraged by him. Coach Schartner challenges his players at all levels to make an impact. There is an impressive balance he is able to generate and maintain.
When asked to put together a Berean "dream team" men's soccer team, based on his first 16 years as a coach, he was able to create a roster, but it wasn't a process of easy selection.
"I know I'm probably forgetting some names," Schartner said.
His best goalkeeper is Mikael Guerrier, although former Bulldog Derek Medellin and his current goalkeeper, Miles Kelly, would also be worthy selections. His starting defenders would be Caleb Wells, Barak Degler, Armani Zalez, Keilon Stube and Chris Intoppa. His top four midfielders would be Arrun Rajoo, Nael Guerrier, Justin Dieck and Brock Dion, and his two scoring forwards would be Noah Torres and Alex Silva.