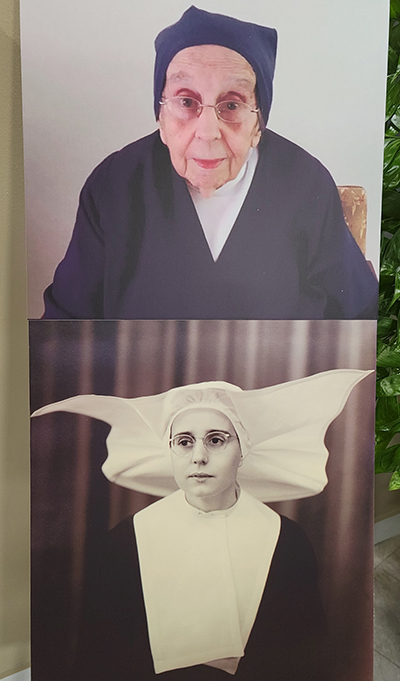 Sister Hilda Alonso, pioneer of Daughters of Charity in Miami, dies at 101
Wednesday, July 13, 2022


By Daniel Shoer Roth
Reprinted with permission from the Miami Herald
MIAMI | The Catholic Church of Miami has lost one of its venerable pillars.
Sister Hilda Alonso, a Cuban nun who founded the Daughters of Charity of Saint Vincent de Paul in Miami, dedicated to caring for the poor, and was principal of the Colegio La Inmaculada Catholic school in Havana, died July 5 in Miami. She was 101 years old.
She passed away peacefully at Casa San Vicente de Paul, the convent in the Flagami area that works extensively with low-income families, providing them with spiritual support, food and other aid, said Sr. Eva Pérez- Puelles, the head of the convent.
With her love of Christ and a life of deep contemplation and prayer, Sister Hilda brought joy and hope to the most marginalized in society, not only in Miami and Cuba, but also in Puerto Rico and Haiti, where she founded the mission, Daughters of Charity.
She came to Miami, accompanied by a delegation of five sisters, in the summer of 1971, accepting an invitation from the Archbishop of Miami Coleman Carroll. Over the previous decade, thousands of Catholic Cubans arrived in Miami after Fidel Castro came to power; the Archdiocese asked the Sisters, among others, to ensure the pastoral care of the new parishioners.
Archbishop Carroll assigned the Daughters of Charity to Gesu Church, Miami's oldest Catholic parish, built in 1896 at 118 NE Second St. The church housed the Centro Hispano Católico (Hispanic Catholic Center), providing services for Cuban refugees, including medical and dental assistance, child care, psychological counseling, English classes and high school classes in Spanish.
"Help was given to look for work, clothes were donated and Sister Hilda was involved in all this," recalls Jesuit Father Eduardo Álvarez, current pastor of Gesu. "She was a real saint, because she helped thousands of people, not only as a teacher, but also as a charitable nun."
A year later, Father (and later bishop) Agustín Román, rector of the Ermita de la Caridad – Our Lady of Charity shrine adjacent to the Hospital of Mercy – asked Sister Hilda for the daughters of help him provide services to pilgrims who have visited the shrine. for consolation and strength.
Román and the Cuban faithful were already aware of the extensive social work that the Daughters of Charity had carried out on the island since their arrival in the middle of the 19th century, in the fields of health, education and the care of orphans, sick and elderly people. Only the habit of the Sisters had changed, for they no longer wore, as part of their religious habit, the shiny, starched flowing headdresses which covered their heads like a flock of white doves.
EDUCATIONAL WORK IN CUBA
Hilda Alonso Llevada was born on February 10, 1921 in San Juan y Martínez, Pinar del Río, western Cuba, daughter of Ramón and Catalina.
She studied at Colegio La Inmaculada until high school, and in 1946 she earned a doctorate. in Education from the University of Havana. That year, she entered the Company of the Daughters of Charity of Saint Vincent de Paul and made her first vows in 1951.
Until 1959, she was the head of La Inmaculada, where the Daughters of Charity in Cuba were also based. Saint Vincent de Paul and Saint Louise de Marillac founded the religious order in France in 1633 with the mission of serving the poor at home and, later, in hospitals. This missionary spirit has spread over the centuries and today the Daughters of Charity are present in 96 countries.
At La Inmaculada, one of Cuba's iconic Catholic schools, Sister Hilda strongly advocated for the education of Cuban children and opened the doors to girls whose parents could not afford school fees.
Zizi Careaga, president of the Alumni Association of Colegio de la Inmaculada in Miami, studied there when Sister Hilda was principal. They have remained in close contact over the decades.
"She was a woman of strong character who, being small and thin, would look at you when you did something wrong and you would tremble. However, in all my life when I was by her side, I never heard her raise her voice," said Careaga, 75. "She spoke softly, but powerfully, with gentleness and great faith in God.
Between 1960 and 1961, Sister Hilda served as director of the Colegio de Belén in Santiago de Cuba, a job that was suddenly interrupted during the anti-religious campaign of the rising communist government, which confiscated Catholic schools and other Church institutions. . Religious intolerance forced 200 nuns who made up the order into exile.
"It was very painful, very tragic to leave what we had built with so much sacrifice," Sister Hilda recalled in a 2014 interview with el Nuevo Herald.
A FRUITFUL EXILE IN CHARITY
Her first decade of exile was spent in Puerto Rico, where she served as principal of Colegio La Milagrosa, in the city of Ponce, and superior of Casa de Estudios, a student residence at the Catholic University of Ponce. In 1965, she was appointed Supervisor of Head Star Educational Centers in the Diocese of Ponce and Provincial Administrator of the Province of the Daughters of Charity in Puerto Rico.
After planting the roots of the Daughters of Charity in the Archdiocese of Miami, she returned to Puerto Rico in 1972, where she was elevated to the rank of provincial of the order in the Caribbean, overseeing mother superiors throughout the region. One of her greatest contributions as a provincial was founding the Mission of the Daughters of Charity in Haiti, according to Sr. Pérez-Puelles.
In 1981, Sister Hilda returned permanently to Miami and led the religious education program at St. Vincent de Paul Parish. By then, the apostolate of the Daughters of Charity had extended to St. John Bosco Church in Little Havana, where they ministered to the elderly, children, and refugees from Mariel.
But it is at the Ermita that they take care of the exiled herd with their missionary Catholicism and their benevolent smiles. At the sanctuary they comforted and encouraged the broken; assisted in the administrative office; manual labor performed; and participated in the prayers and the festive singing of the liturgy.
Currently, three Daughters of Charity serve in the Hermitage and five in Casa San Vicente de Paul, where Sister Hilda was active, overseeing the collection and shipment of containers of food, medicine and other supplies to missions in Haiti and Cuba, until his retirement. in 2014, at the age of 93, for health reasons. In 2016, she celebrated 70 years of religious life.
Rafael Peñalver, a lay leader and lawyer close to Father Román, said the Daughters of Charity were instrumental in establishing the Cuban Catholic Church in South Florida.
Sister Hilda was "an academically and morally brilliant woman, whose devotion to her neighbor had no limits," he said, recalling the day her father, Dr. Rafael Peñalver, died cancer in 1988, the family had not made funeral arrangements in advance.
"We weren't prepared," he said. Sister Hilda, a friend of her father, "had a special place reserved for her inside the chapel of the Catholic cemetery of Our Lady of Mercy. She called me and said, 'I want to give my space to your family so they can be buried there.' "
The funeral mass was held on Wednesday morning July 13, 2022 at Our Lady of Guadalupe Church in Doral, followed by interment at Our Lady of Mercy Cemetery. The viewing took place Tuesday evening from 4 p.m. to 10 p.m. at the Sanctuaire Notre-Dame de la Charité. In lieu of flowers, donations to the Daughters of Charity are requested.
This story was originally published on July 12, 2022 at 5:17 p.m. in The Miami Herald. Learn more at miamiherald.com/.
The share buttons above are provided by a third party "AddThis".
Click here to read their privacy terms.